Welcome to DANISH ENDURANCE
DANISH ENDURANCE is born of the idea that physical and mental balance builds personal endurance. In Denmark, we believe that greater personal endurance leads to greater happiness. That's the state of mind we want to inspire.
It's our mission to support all athletes in achieving greater physical and mental endurance—from hobbyists training for their first 5K to elite competitors heading to the Olympics. Our elite-quality sports gear will inspire you to push harder, go longer, and feel stronger. You'll feel free, and confident that nothing is holding you back from achieving your goals.
We design every DANISH ENDURANCE product in collaboration with Olympic and endurance athletes.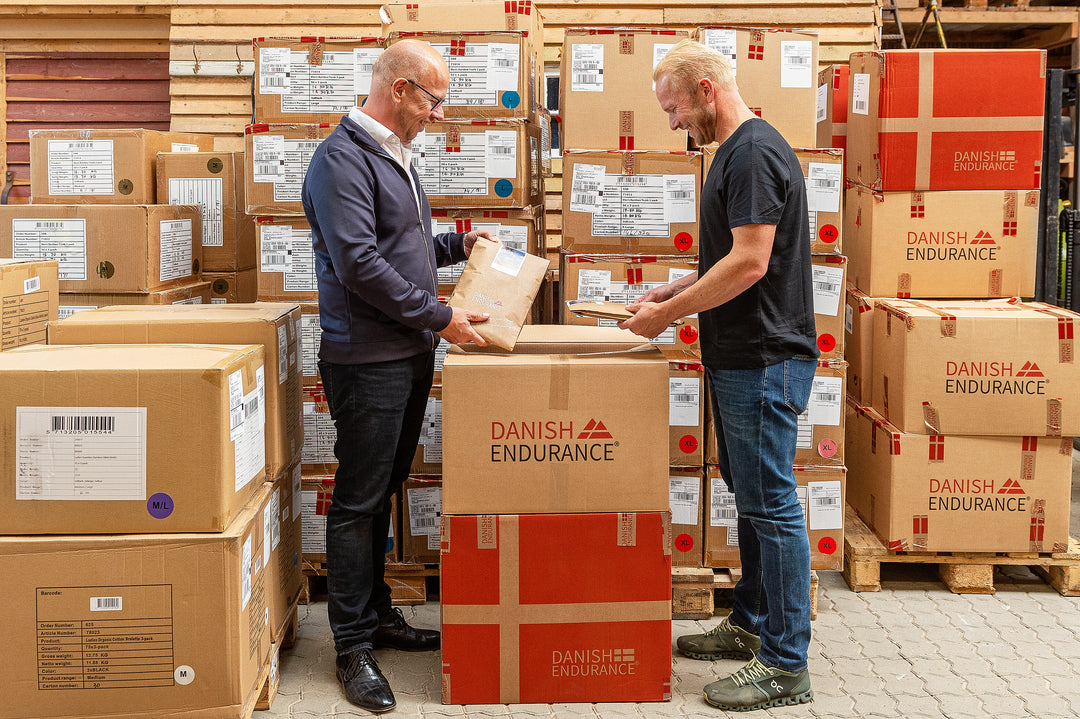 Family Business building on trust
DANISH ENDURANCE is a family-owned company, created in 2015 when our CEO and founder Nicolaj, an avid all-seasons runner, struggled to find the perfect pair of compression socks as he trained for a marathon. He thought, "If you want something done right, do it yourself." So, he did. Together with his brother Christoffer, a lifelong outdoor enthusiast, he founded DANISH ENDURANCE.
The brothers, who (in true Danish fashion) are happiest outdoors, started by designing those compression socks. They've since grown DANISH ENDURANCE into a full line of sports performance gear. Nicolaj and Christoffer are personally involved in every detail of the production process—from the product idea itself through its development, design, and manufacturing.
While the DANISH ENDURANCE team has grown over the years, we've stayed true to our family roots. Our close-knit group merges expertise and trust, developing top-quality products in an environment that can only be described as hyggeligt.
Developed with Olympic and endurance athletes
In order to create best-in-class sports gear, we've gone straight to the experts!
DANISH ENDURANCE products have traveled on rugged expeditions across Greenland's ice sheets and to the peak of Mount Everest.
We develop our products in collaboration with Olympic and outdoor performance athletes. All of our products are field-tested and refined for optimal performance under extreme conditions. Working closely with these athletes, we're continuously improving and expanding our range of products to provide you with the gear you need to persevere and get to those endorphins!
Designed in Denmark with a focus on sustainability
Over 70 years ago, Danish architecture and design took the world by storm. Denmark has been building on that heritage ever since, creating world-renowned culture, cuisine, television, cinema—and now, world-class sports performance gear.
As Danes, we strongly believe in the importance of design. It's not enough that our sports performance gear is made from high-quality materials that provide great functionality. If it's Danish, it must also be exquisitely designed. That's why we design all of our DANISH ENDURANCE products in Copenhagen.
Our products are ethically and sustainably manufactured, and we strive to produce high-quality products with the most advanced features available. This combination of sustainability, design, and performance is at the core of everything we create. Whether you're running, biking, hiking, competing in triathlons, powering through a cross-fit session, or just taking a relaxing stroll in the woods (a favorite Danish pastime), DANISH ENDURANCE is the best gear for the job.