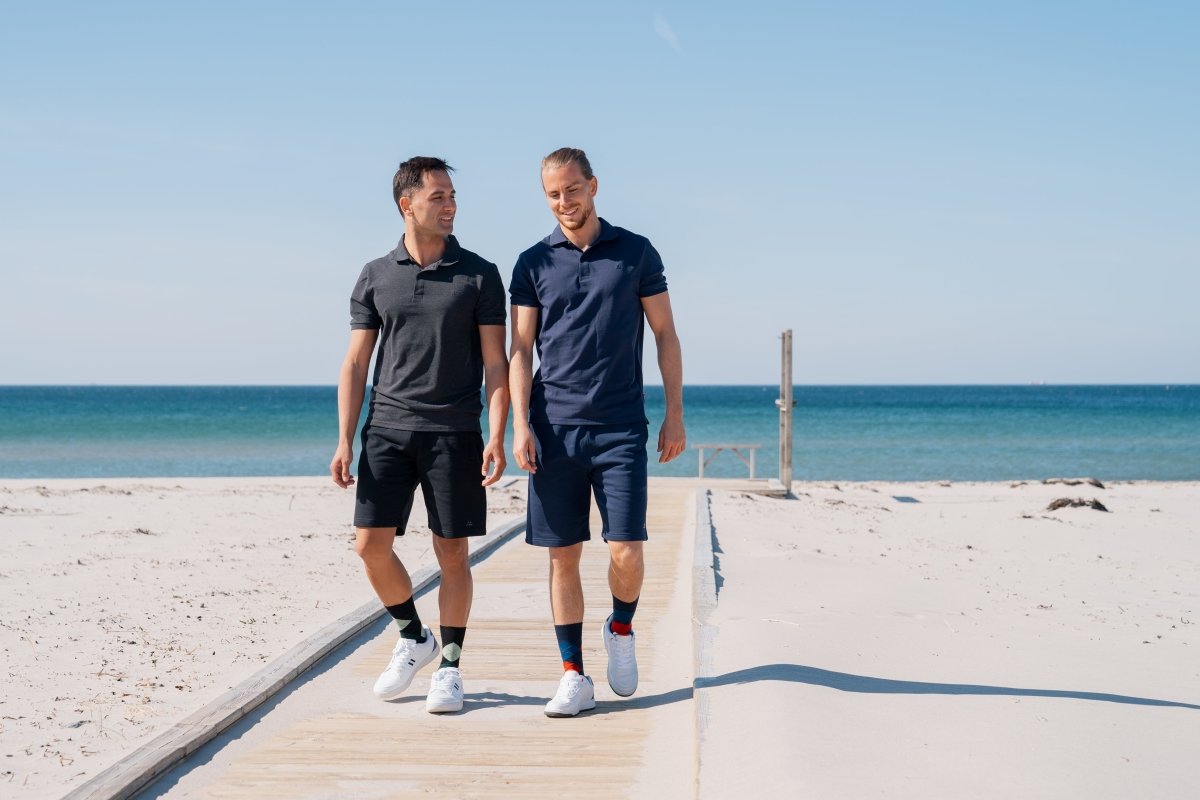 As the sun beckons us to embrace the warmth of summer, it's time to plan those much-awaited adventures. Whether you're wandering through charming cobblestone streets or basking in the glory of golden beaches, having the right clothing can elevate your summer travel experience. In this blog post, we unveil a collection of sophisticated yet casual summer travel essentials that promise to keep you comfortable, stylish, and ready for any escapade that comes your way.
Find all items mentioned in this blog post here.
1. MERINO WOOL BASE LAYER SHIRT FOR MEN & WOMEN: YOUR LIGHTWEIGHT COMPANION
As the sun dips below the horizon and the evening chill sets in, a reliable base layer becomes indispensable. Enter the merino wool base layer shirt, a sophisticated choice for both women and men. This high-performance fabric offers unparalleled insulation, keeping you warm without adding unnecessary weight to your baggage. Its feather-light nature makes it the perfect travel companion, ensuring you stay cozy during cool evenings and adventures in varying climates. The moisture-wicking properties of merino wool keep you feeling fresh, even as you venture into unknown territories. Continue reading about the qualities of merino wool that make it perfect for summer in this previous blog post.
2. COTTON NO SHOW SOCKS - EFFORTLESS COMFORT FOR YOUR FEET
While exploring new horizons, comfort is paramount, starting from the ground up. Slip on a pair of cotton no show socks with built-in mesh lanes, and your feet will thank you for it. These discreet socks are designed to ventilate and wick away sweat, leaving your feet feeling dry, cool, and utterly comfortable all day long. Pair them with your favorite summer footwear, whether you're walking the city streets or hiking nature trails, and enjoy a blissful journey with every step you take. Not sure cotton is the best choice? We dove into the different materials of dress socks in this blog post so you could find the perfect companion for your feet.
3. MEN'S QUICK-DRY SWIM TRUNKS - VERSATILITY AT ITS BEST
A pair of men's quick-dry swim trunks is a summer travel essential that should never be overlooked. Not only are they lightweight and perfect for swimming in the ocean or pool, but they also double as regular shorts. Their quick-drying properties mean you can take a dip in the morning, and soon enough they'll be ready to wear for exploring nearby attractions or grabbing a bite to eat. Talk about convenience!
4. MODAL V-NECK AND CREW NECK T-SHIRTS FOR WOMEN - LIGHTWEIGHT LUXURY
Meet your summer staple that effortlessly blends style and comfort - the modal t-shirts. This lightweight and exquisitely soft fabric will have you feeling comfortable and elegant on all your escapades. Whether you're strolling through charming villages or sipping cocktails by the shore, this tee exudes laid-back luxury, making it an essential addition to your summer travel wardrobe.
5. MEN'S ORGANIC COTTON POLO SHIRT - A CLASSIC DAY-TO-NIGHT COMPANION
For a timeless and refined look that effortlessly transitions from day to night, the men's organic cotton polo shirt is the epitome of sophistication. Whether you're exploring ancient landmarks, indulging in a leisurely lunch, or embracing an evening of fine dining, this polished piece ensures you remain cool and composed, courtesy of its breathable organic cotton fabric. It's a versatile addition to your travel wardrobe, perfectly blending style with comfort for any occasion.
BOTTOM LINE
As you embark on your summer adventures, embrace the allure of effortless elegance with our carefully curated summer travel essentials. From the lightweight and insulating merino wool base layer shirts to the understated comfort of cotton no show socks, each item serves a purpose in elevating your travel experience be it a domestic or an overseas trip. So, go ahead and explore the world in style, knowing that these versatile companions have your back, keeping you comfortable, sophisticated, and ready to create unforgettable memories wherever your journey takes you. Happy travels!
Find all items mentioned in this blog post here.
---